Commercial Drive Asian-fusion mainstay B House Restaurant officially opened the doors to its second location at 1101-8328 Capstan Way in Richmond this Tuesday, November 7.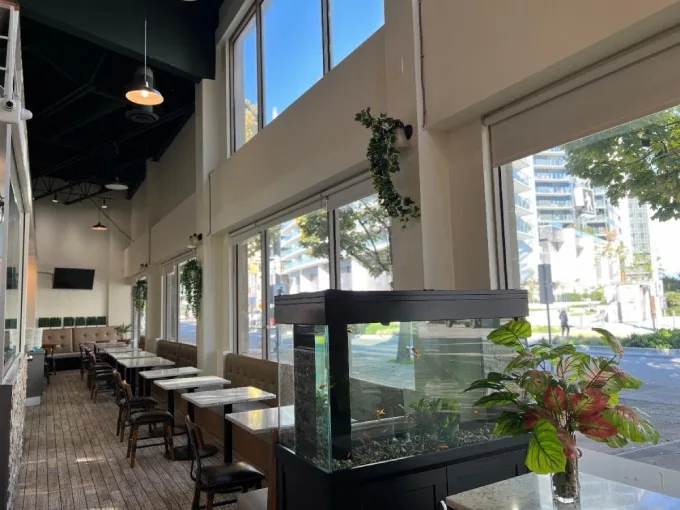 Located in a bright and welcoming space with seating for 45 guests, the Capstan Way outpost is a new venture for Chef Hung Nguyen and wife Vy Tran, who opened their original B House location at 2270 Commercial Drive in October 2020 and quickly earned a following thanks to their creative takes on Asian-fusion cuisine and 'guest-first' focus.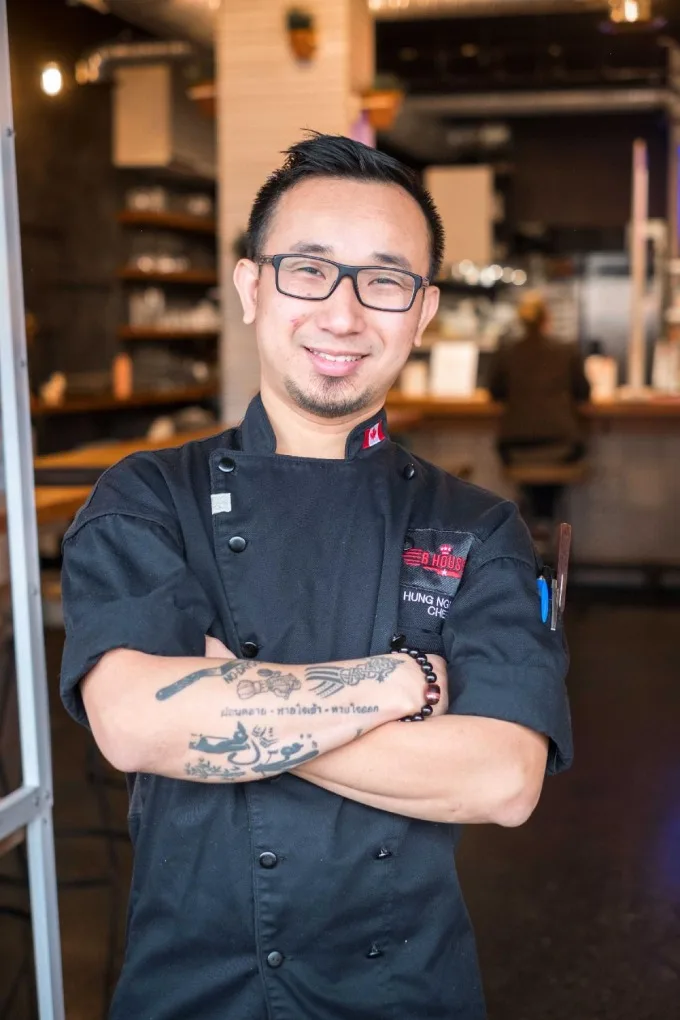 The new location will showcase a number of guest favourites from the original location like the Green Papaya Salad, Bang Bang Shrimp, Pork Belly and Dragon Noodle Bowls as well as an array of new dishes including the following:
'B' Appetite:
Red Curry Mussels (West Coast mussels, pineapple, lychee, tomato, fresh herbs, Thai coconut red curry, sourdough toast);
Bang Bang Shrimp (breaded shrimp tossed in Cajun sauce, spicy aioli, green onion, pineapple salsa, daikon slaw);
Jumbo Shrimp Fresh Salad Roll (breaded shrimp tossed in Cajun spice, spicy aioli, brown rice paper, organic greens, asparagus, carrot, harissa aioli, peanut butter sauce, pineapple salsa, fried lotus root);
Firecrackers Jumbo Red Shrimp (1/2 pound of jumbo red shrimp in lobster garlic chili butter sauce, marinated tomato, toast);
Yellowfin Tuna Tartar (citrus soy marinated red tuna, avocado, edamame salad, green onion, sesame seeds, miso glaze, tobiko, rice chips);
Green Papaya Salad (shredded green papaya, kale, carrot, basil-cilantro-mint, candied almond, pickled ginger vinaigrette);
House Chop Salad (organic mixed greens, cucumber, tomato, avocado, fennel, edamame, fresh dill, seed mustard vinaigrette, candied almonds, roasted pumpkin seeds);
Chicken Wings (choice of 'B' Simple, Hot or Garlic Soy);
Spicy Korean Chicken Bites (boneless fried chicken, spicy Korean sauce, pineapple, cucumber, edamame, daikon, sesame seeds);
Buttermilk Chicken Tenders (crispy chicken tenders, citrus sweet chili sauce);
'B' With Us:
Miso Steelhead Salmon (sesame crusted miso marinated steelhead, seasonal vegetables, rice pilaf, miso glazed, pineapple salsa, tobiko, truffle aioli);
Steak Frites (grilled 6oz AAA Top Sirloin, Cajun fries, fresh herbs, shrimp & mushroom thermidor sauce);
Grilled 12oz New York Striploin (certified Angus beef, red wine peppercorn sauce, vegetables, cheesy mashed potatoes);
Seafood Boil (grilled Canadian lobster tail, shrimp, mussels, fish, lobster stock, fire-roasted tomato sauce, vegetables, sourdough toast);
Slow-Braised Lamb Shank (14-hour braised lamb shank, red wine peppercorn sauce, cheesy mashed potatoes, arugula salad);
Vietnamese Chicken Noodle Soup (crispy chicken leg, rice noodles, chili flakes, fresh herbs, onion, chicken chicharron);
5 Spice Beef Noodle Soup (14-hour braised beef shank, rice noodles, bok choy, bean sprouts, fresh herbs, chili flakes, 5 spice broth);
Dragon Noodles Bowl (stir-fried egg noodles with blackened chicken leg, prawns, vegetables, crispy garlic, fresh herbs);
Thai Red Curry with Chicken Leg (crispy skin chicken leg, spiced Thai red curry with bok choy, roasted yam, lychee, pineapple, tomato, fresh Thai basil, cilantro, side rice, crispy garlic);
Vegan Organic Tofu Bowl (spicy tempura agedashi organic tofu, edamame, cucumber, tomato, kale, pineapple, rice, coconut herb dressing, crispy garlic, organic black chia seeds);
Yellowfin Tuna Poke Bowl (spicy sashimi yellowfin tuna, pickled ginger, seaweed, tobiko, rice with coconut herb dressing, pineapple, cucumber-tomato-kale salad, truffle aioli, sesame seeds, crispy garlic);
Pork Belly Bowl (beer-braised pork belly, daikon slaw, cucumber, tomato, rice with coconut herb dressing, pineapple, green onion, soy marinated egg, spicy aioli, sesame seeds, crispy garlic);
'B' Sweet
House-made Chocolate Molten Brownie (whipped cream, strawberry, salted caramel, chocolate sauce);
Raisin-Mascarpone Bread Pudding (berry compote, whipped cream, fresh berries);
At the B House Richmond bar, guests can order from a list that includes craft beer, an array of classic and contemporary cocktails such as the Saigon Caesar (vodka, soy sauce, Tabasco, Clamato, lemongrass sour), Strawberry Basil Smash (gin, strawberry, basil, lime juice, soda) and B House Mojito (white rum, vodka, fresh strawberry, fresh mint, sorbet) as well as zero-proof beverages and non-alcoholic libations.
No stranger to the diverse array of inspiration and seasonal ingredients that exists in Vancouver's vibrant dining scene, Nguyen sharpened his skills at The Boathouse, Joey's and Milestones before helming the culinary team as Head Chef at Rogue Kitchen and Wetbar for five years prior to opening the original B House Restaurant.
To learn more about B House, visit bhouse.ca.