Glowbal Restaurant Group is welcoming Robert Lee to the family as the new Executive Chef and adding a new collection of 'Summer Spritzer' cocktails best enjoyed on the expansive al fresco garden patio at its flagship Glowbal Restaurant (590 West Georgia Street).
Lee takes the helm of the back of house at Glowbal after a long and storied culinary career that includes stops at one of Asia's Top-50 restaurants Mume (Taiwan), San Francisco's Michelin-Starred Moroccan hotspots Aziza and Mourad, and Vancouver's Savoury Chef Catering.
He also previously shared the line at the former MARKET by Jean-Georges at the Shangri-La Hotel Vancouver with current Glowbal Restaurant Group Chef and Operations Manager Alex Kim.
Lee has affixed his stamp on the Glowbal menu with an array of new dishes that include: Burrata and Prosciutto (olive pesto, blackberries, aged balsamic, grilled focaccia); Foie Gras Truffle Pâté (toasted brioche, candied hazelnut, porcini charcoal crumb); Dry Aged Duck Breast (confit duck, roasted sunchoke, French beans, almond, Hoisin duck jus); Vancouver Island Organic Salmon (new potatoes, leek, mussels, pork lardon, saffron velouté); and Carnaroli Risotto (spring onion & herbs, green peas, enoki fritter, maitake, Parmigiano-Reggiano), among others.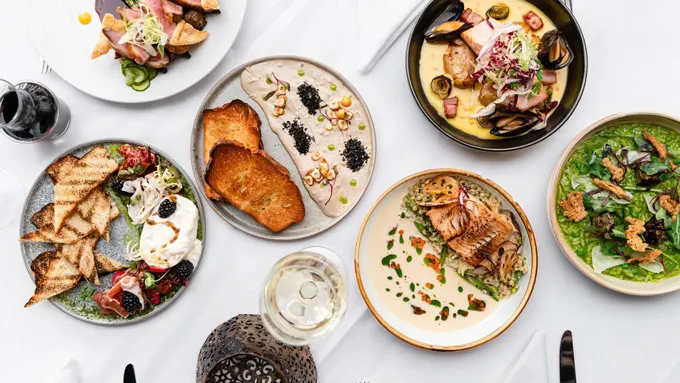 Glowbal's beloved garden patio also gets its chance to shine thanks to warmer weather, longer nights, and a new Summer Spritzer cocktail list from Beverage Director Martin Kovalcik that showcases classic and contemporary libations like:
Aperol Spritz (Aperol, Prosecco, soda, orange slice);
Elderflower Spritz (elderflower syrup, Prosecco, soda, mint);*non-alcoholic version available
Lillet Rose (Lillet Blanc, Prosecco, rose lemonade, rose petal);
Lavender Gin Fizz (Ampersand gin, lime juice, homemade lavender syrup, soda, lavender flower or lemon zest);*non-alcoholic version available
Glowbal G&T (Arbutus Empiric gin, Esquimalt Kina-Salal, grapefruit juice, bitters, thyme, blueberries);
Glowbal Dalgona Coffee (Licor 43, Frangelico, Coffee Nocino local green walnut liqueur, almond milk, demerara sugar);*decaf and non-alcoholic version available
Lemon & Peach Prosecco Sorbet (lemon & peach sorbet, Prosecco, Angostura bitters, mint);
Cucumber & Basil Fizz (Sheringham 'Seaside' gin, homemade cucumber-basil cordial, fresh cucumber & basil, lime juice, soda).