Glowbal Restaurant Group is christening a new summer menu and bringing a pair of industry veterans to the bridge of its culinary flagship restaurant, Five Sails, that anchors the Pan Pacific Hotel at 999 Canada Place in Vancouver.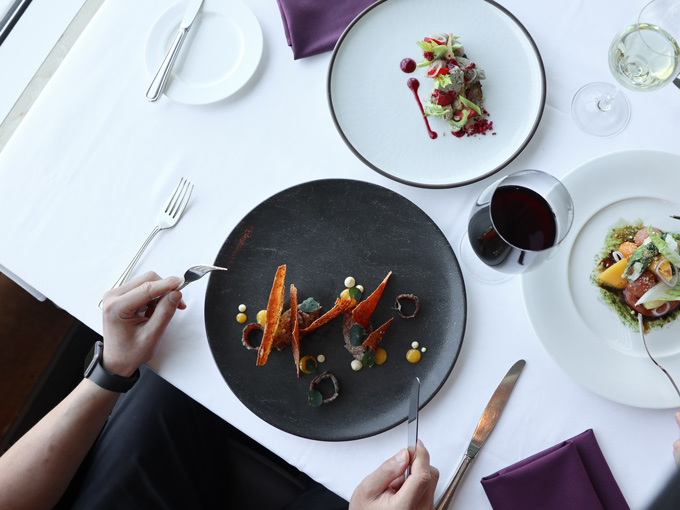 The local hospitality group has promoted long-time Five Sails fixture Jason Husmillo to the role of General Manager and named well-travelled and seasoned front-of-house talent Angus Porter its new Assistant General Manager at the award winning restaurant.
Husmillo has been a friendly and familiar face for guests at Five Sails for more than a decade.
He first came aboard as a server in 2011 and rose through the ranks to hold the roles of Maitre D' and more recently Assistant General Manager following Glowbal's acquisition of the venerable culinary waterfront destination in 2020.
Porter carved out a career in the hotel and bar and restaurant industry in his Scottish homeland and throughout Europe before emigrating to Vancouver and eventually joining Glowbal as Bar Manager at its Black + Blue Steakhouse before being promoted to a larger front-of-house role at Five Sails in 2020.
Executive Chef Robert Robinson, who took the reins of Five Sails this spring after a notable culinary career at Michelin-starred restaurants in Europe, Toronto's acclaimed Canoe Restaurant, and more locally at Le Crocodile and West, has also introduced a new dinner menu at Five Sails.
The new fresh sheet captures the local flavours and tastes of summer season at its peak in an array of Pacific Northwest-inspired fare that includes the following:
• APPETIZERS •
Tomatoes
(heirlooms, goat cheese, romaine, pine nut pesto, aged balsamic)
Mushrooms
(carnaroli risotto, torched gem lettuce, black truffles, celeriac espuma, sage tuile)
Rillette
(duck rillette, liver parfait, crisp baguette, summer fruit, Quails' Gate Optima)
Tartare
(beef tenderloin, charred flat iron, oyster mayo, egg yolk gel, watercress, lavash)
Foie Gras
(veal sweetbread & morel fricassée, hazelnuts, green apple)
Scallops
(caramelized endive, pink apple purée, green apple, butter crumble)
Prawns
(black tiger prawns, cognac horseradish cocktail sauce, horseradish 'snow').
~
• MAINS •
Sablefish
(marinated, fennel fondue, cucumber and apple confit, pommes dauphine, wasabi beurre blanc, herb oil)
Striped Bass
(pan-seared, coriander pesto, crushed fingerling potatoes, curried mussel chowder)
Halibut
(tomato fondue, herb mantle, summer succotash, Mission Hill Chardonnay-steamed mussels & clams)
Lobster
(PEI lobster, 1.5 lbs., citrus butter poached, parisian gnocchi, grilled asparagus, wild ramps, parmesan & almond tuile)
Cauliflower
(garlic scape panisse, barbacoa chickpeas, kohlrabi, apricots)
Duck
(Fraser Valley breast, purple-top turnip purée, leg confit & mushroom lasagna, bok choy, ginger broth, blackberry jus)
Lamb
(grilled striploin, tenderloin mosaic, eggplant caponata, grilled summer salad)
Beef
(tenderloin, braised oxtail, torched broccoli, morels, nori rice cracker)
*optional foie gras supplement available