After a two-year hiatus, Vancouver Firefighter Charities (VFC) is welcoming the return of the rainy season to the 'Wet Coast' and its annual Umbrella Day fundraising campaign in support of its Snacks for Kids program on Wednesday, October 12.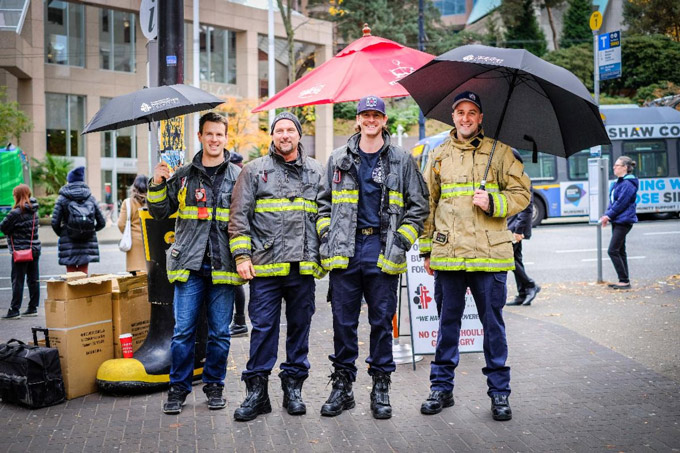 On October 12 from 7:30 a.m. until 1:30 p.m. pedestrians and commuters will be met by firefighter volunteers selling VFC-branded umbrellas in small ($20) and large ($30) sizes and collecting donations at six major transit hubs across Vancouver:
Waterfront Station (Cordova St. between Seymour and Granville);
City Centre Station (SW corner of Granville and Georgia);
Burrard Street Station (SW corner of Burrard and Dunsmuir);
City Hall Station (NW corner of West Broadway and Cambie)
Commercial Station (NE corner of East Broadway and Commerical)
Yaletown Station
Paused during the pandemic, this year's event marks the sixth anniversary for Umbrella Day, which has raised more than $10,000 each year during past events in support of all the work that the Snacks for Kids program, which was founded in 2013 in partnership with the Vancouver School Board.
Money raised for Snacks for Kids goes directly toward the purchase and distribution of nutritious non-perishable snacks, fresh food and take-home groceries to more than 5,000 children in 65 schools and after-school programs across the city.
The volunteer-led program is supported entirely through Vancouver firefighter payroll donations and fundraising events hosted by the VFC throughout the year.
To learn more about VFC's Umbrella Day and other fundraising events and initiatives that benefit the community at large, go to vancouverfirefighters.ca.