The BC Seafood Festival 2023 returns for its 15th year as Western Canada's largest seafood celebration.
This year features a new Comox Valley location atop Mount Washington on Vancouver Island, along with over twenty sea-foodie events that invites attendees to taste the bounty of the Pacific Ocean.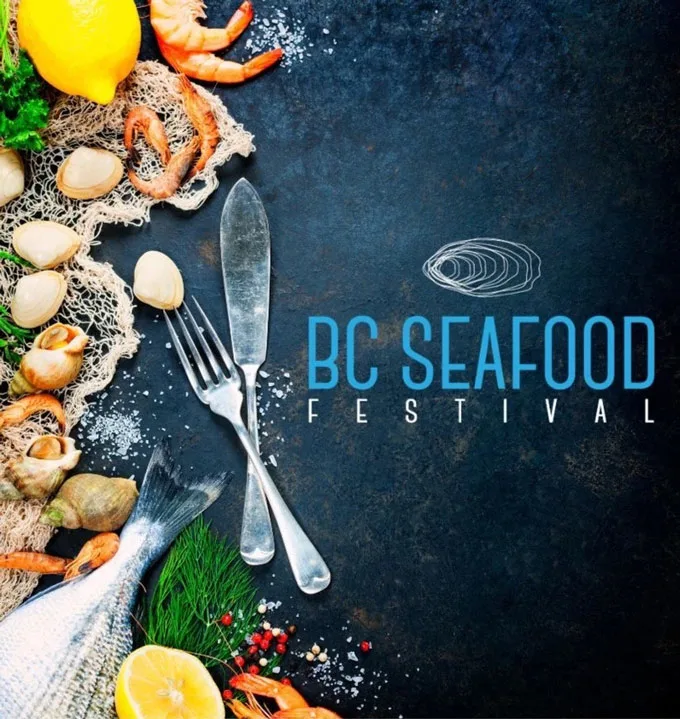 Guests can look forward to interactive MasterClasses, dinners with a variety of BC chefs, happy hours, and friendly competitions including the Fanny Bay Oysters Shucking Competition.
AHOY! Taste the Bounty of BC's Waters
BC's top chefs and culinary students are set to descend on the alpine resort for three full days of gastronomy – this is any foodie's dream.
The Festival's longest-running event, an elaborate Gala Dinner, boasts 12+ stations and is the best opportunity to taste all the chefs creations in one sitting.
Shucked! is Canada's largest oyster bar happy hour led by World Champion Oyster Shucker, Patrick McMurray.
The Kitchen Party led by Chef JC Felicella and the Junior Culinary Team Canada features an incredible three course seafood menu.
Clam it up! Happy Hour is a fan favourite led by Mac's Oysters, inviting guests to taste a range of clams, mussels and oysters presented in a myriad of ways. View all the events here.
Musical performances by The Whiskeydicks; Boondock; Time Well Wasted; and the Jeff Drummond Group.
From Celtic, world, party, folk, country, rock, and all the greatest hits in between – the Festival has the soundtrack for a good time.
Get Schooled by a Chef
Thirteen MasterClasses led by fishy-loving chefs and industry associations invite attendees to elevate their cooking by rolling up their sleeves for an interactive, educational and fun experience.
MasterClasses include; BC Oysters; Prawn to be Wild; Happy Endings Geoduck; Seafood Pairing with Cascadia Liquor; Ocean Wise Deep Dive; Wholey Halibut; Follow me Cocktails; Dueling Pairing; Learn to Shuck; Get Seaweed; and Discover Sablefish.
Full description and tickets available here.
Sustainable seafood advocate, Ned Bell, is the BC Seafood Festival's Chef Ambassador and has hand selected a stellar lineup of seafood champions to attend.
Shucker Paddy (ShuckerPaddy OysterCo.), Aaron Rail (Nikkei Ramen-Ya), Tommy Shorthouse (Fanny Bay Oyster Bar), Welbert Choi, Bobby Milheron (Maxine's, Homer St. Cafe, Tableau Bar), Garett Kemp (Pier 7), Dominic Fortin (Top Table), Deseree Lo (Private Chef), Richard Benson (Ocean 7), Chris Whittaker (Timber Shuswap), Will Lew (Club Versante), Julian Bond (Organic Ocean), Amanda Swinimer (Dakini Tidal Wilds), North Island Culinary Association and JC Felicella and the Junior Culinary Team Canada.
Mount Washington offers stunning views of the valley below, along with an incredible roster of outdoor adventure activities and a range of accommodation options, the destination venue allows the Festival a depth of indoor and outdoor event hosting options no matter the weather, removes site impacts from the previous location, while also offering an enhanced experience for Festival attendees.
And to add to the experience, every Festival guest will receive a FREE Scenic Chair Lift Ride, courtesy of Mount Washington Alpine Resort.
A daily shuttle from the base of the mountain is available.
Buy tickets at bcseafoodfestival.com, connect socially at @bcseafoodfest, and tag #BCSeafoodFest